Photoresist for Hologram
Known photoresist resist, which is a phase-type recording medium, generally rejection thin plastic, may be formed on the surface relief type hologram plane. Positive photoresists generally use glue, the developer of 1% NaOH solution, and the dilution method used developing, there are specialized manufacturers recommended developer. Photoresist (holographic image) up to a theoretical maximum diffraction efficiency of 34% - 40%, has many practical applications, but lower resolution limit. The resolution of the photoresist so 1500lin/mm.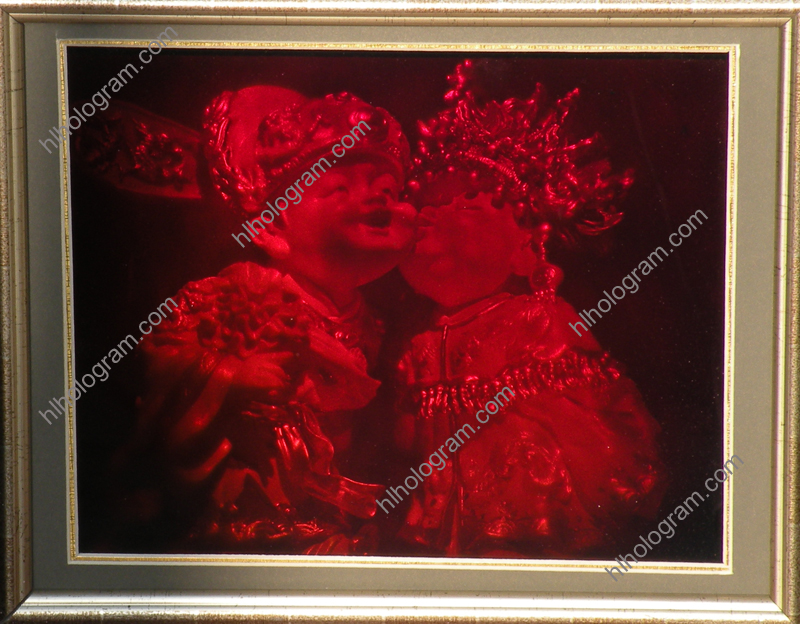 3D Halide Holographic Plate.
Characteristics of the photoresist
Now widely used in the photoresist relief molding replication original hologram production, this phase-type recording medium under light irradiation surface can be formed by the development with the relief image. Photoresist can be made by a method Centrifugal micron plastic film, such as spin coating machine speed reaches 4000r/min, will receive a lpm thick thin plastic, the shrinkage and deformation is very small, high diffraction efficiency, is to produce a good media hologram plane.
Hologram Sticker, Security tamper proof holographic label.
The photoresist is divided into negative and positive glue.

Negative photoresist: the exposed portion of the light due to absorption, become insoluble, after the developed unexposed portion is dissolved away.
Hologram Sticker, Security tamper proof holographic label.
Positive plastic: the exposed portion of the light due to absorption, by development after the exposed portion is dissolved out into a soluble, while the unexposed portion is left. To the membrane and good adhesion substrates such as glass, generally choose positive photoresist.
Hologram Stickers, Security tamper proof holographic labels.
Holograms can be stored in persistent storage time to characterize the dark, dark storage time is recorded under dark conditions after the initial change in refractive index distribution of the time is retained. Electro-optic crystal usually has a larger dielectric constant, and is highly insulating. Their dark and storage time from seconds to several years.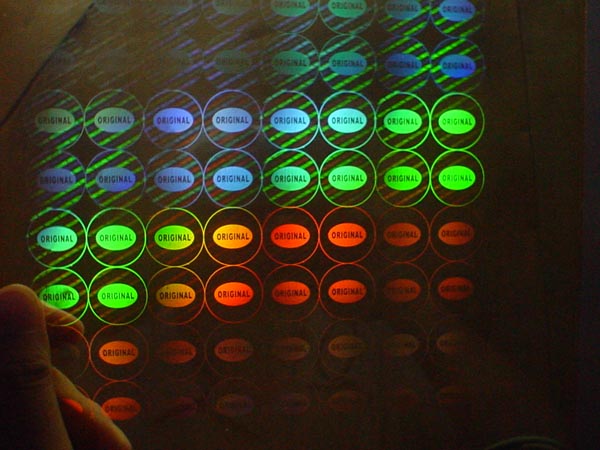 Hologram Photoresit.
Store persistent shorter material suitable for real time signal processing, coherent light amplification and optical phase conjugation. However, read-only memory to store persistent long required in this case can be fixed (fixing) technology, the electronic space charge pattern converted into a stable ionic charge pattern.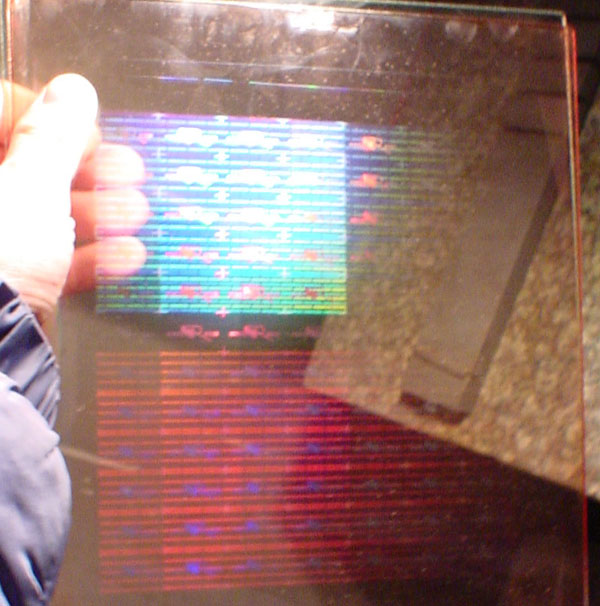 Holographic Photoresit.
Crystal size and optical quality: crystal growth is a materials science and technology category. Holographic storage capacity issues need a larger size and optical quality is very good crystal. However, at present the most sensitive material potassium tantalate niobate (KTN) optical quality is poor, and strontium barium niobate (SBN) crystal is always some "striations", so in practice it is difficult to obtain a larger size, and very good optical quality crystals.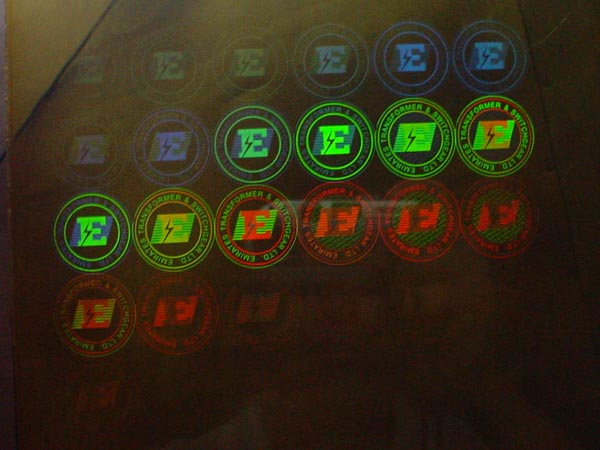 Holographic Photoresit Glass
Spatial resolution:. Spatial resolution of the spatial frequency response. Most of photorefractive materials are monocrystalline, in principle, by its spatial resolution is determined by the distance between the trap. In undoped crystals, recorded hologram resolution generally up lOOOlin / mm.

Other holographic recording material
Conductive plastic light: a light-conductive plastic phase relief type recording medium, the recording material is a new type. Its structure was first on the glass substrate coated with a transparent conductor, such as tin oxide, which is a transparent photoconductor, the top for the hot plastic. Its electric field of the recording process is the formation of an electrostatic latent image, the thermal plastic deformation, forming the surface relief hologram
Transparent plastic Hologram material
Photopolymer Hologram: the polymerization is a chemical reaction in the polymerization process, the small molecule or monomer into a huge molecules or polymers. The photosensitive polymer hologram recording material can be divided into a photopolymerizable, photocrosslinkable type or a photodegradable type three categories.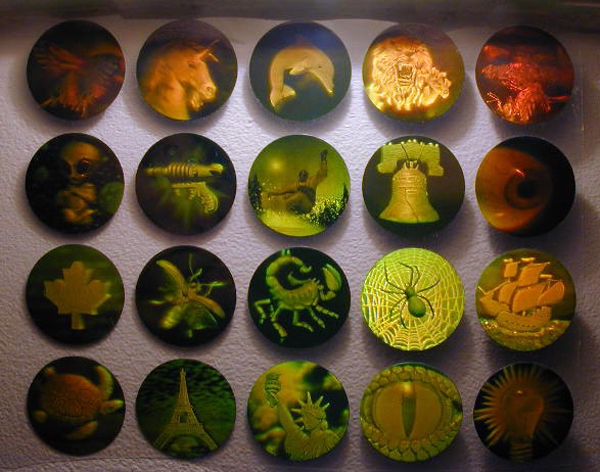 Holographic Photopolyer Sticker.

Photopolymer as holographic recording materials, is a photopolymerization type, it has a high sensitivity, high resolution, high diffraction efficiency, high signal to noise ratio, wide spectral response, easy processing, latitude, storage stability, etc., is an ideal recording material. Photopolymer is polymer-tech products, it received much attention, become a hot research and development, such as in a photonic crystal production and other aspects of the application. Photopolymer holographic recording material as the general use of photosensitive polymerization.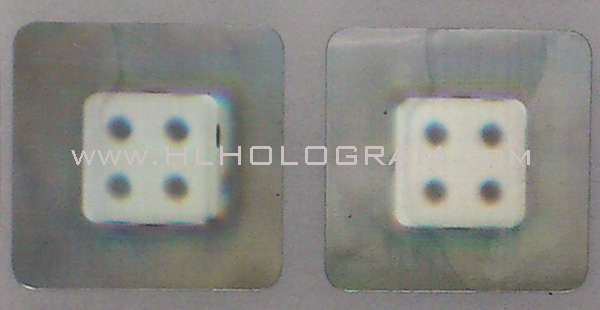 Holographic Electronic Beam Sticker.
Photopolymer recording process after the exposure Central, small molecule or monomer composition into large polymer molecules. Photopolymer higher optical sensitivity of the photoresist and a light-colored material, but lower than the silver halide emulsion, which can produce index type, can also produce a phase relief type hologram. Photopolymer dry development and the advantages of fast processing, high-resolution holograms can be obtained, resulting in a better image fidelity and long-term preservation.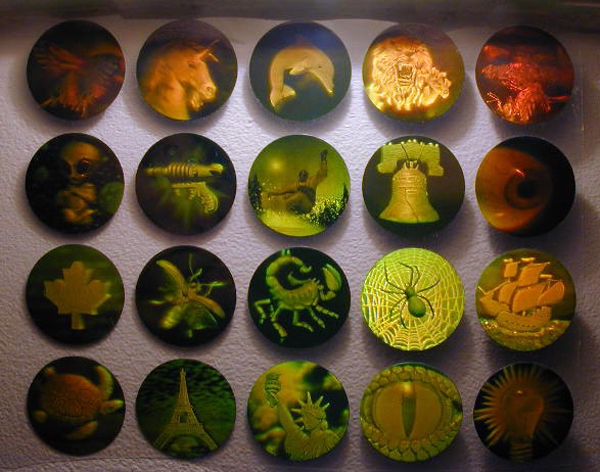 Holographic Photopolyer Sticker.
Photochromic material: the photochromic material referred photochromic material, which can happen when the exposure reversible color change. Most of the solid, liquid, organic and inorganic compounds have a crystal of this nature. Using this material as the holographic recording medium does not require the development, and can be used hot or optically erased and reused. But the light-colored material sensitivity to be worse. Photochromic material with no grain characteristics, resolution is only limited by the wavelength of the recording light, and if the recording light power is strong enough, is not necessary to use dry or wet development, but only the light can be recorded or erased in place hologram. Light-colored material also has a wide dynamic range, and it is more than the maximum photorefractive two orders of magnitude higher than the refractive index change.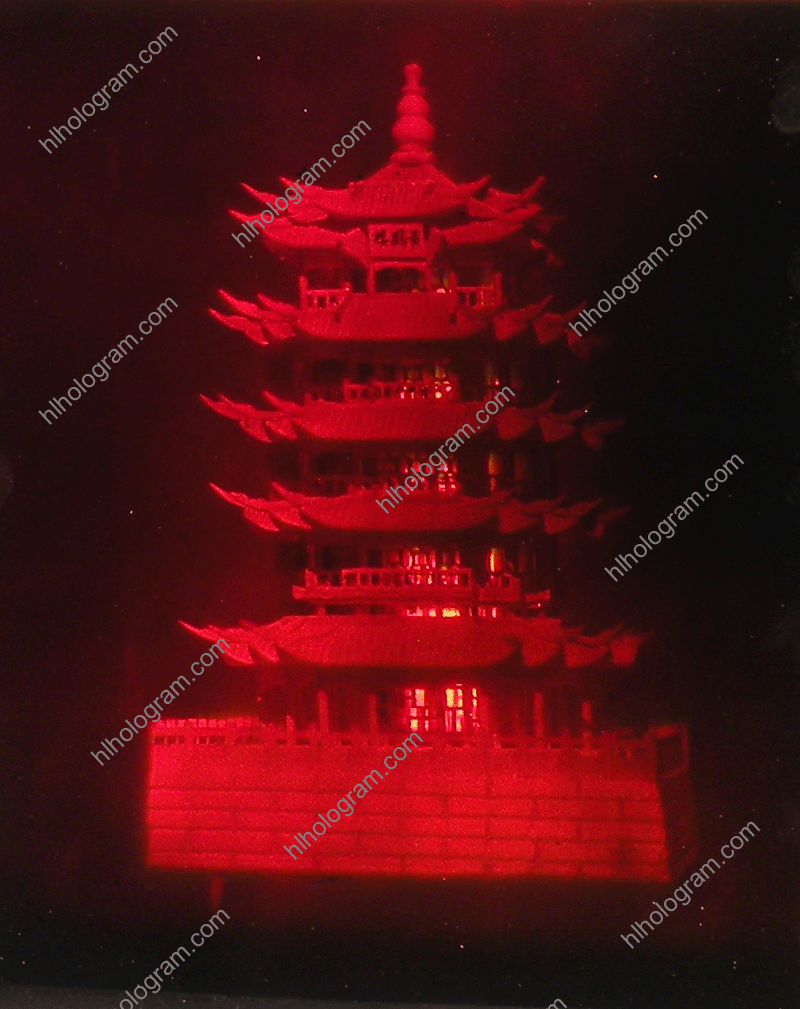 3D Holographic Plate.
Sensitivity and spectral sensitivity for hologram
Sensitivity is the recording medium receiving the action of light, its sensitivity to the reaction. Recording process is a photochemical process, the longer the wavelength of light, the photon energy is smaller.
A recording medium for each corresponds to a wavelength greater than the wavelength of light from the photochemical effect of the medium can not, at this wavelength called red limit.
In addition, each recording medium has its absorption band, a wavelength in the absorption band from the photochemical effect to, which is the spectral sensitivity.
Therefore, to make a photosensitive recording medium must satisfy the wavelength, the wavelength of the recording medium to be within the absorption band, the holographic technique, must also meet a certain amount of exposure.

Silver halide emulsion is mixed silver halide fine particles dispersed in gelatin, plus certain photosensitizers made, commonly known as silver on board, by the emulsion layer, the bottom substrate and anti-halation layers j where the underlying glue The purpose is to make the emulsion layer more firmly bonded to the substrate, while the anti-halation layer is to prevent the exposure caused by the reflected light and produce additional halo hologram
To get more detial please visit www.hlhologram.com/Hologram_machine_list.htm
Types of sensitive anti-counterfeiting labels
Security design and comprehensive anti-counterfeiting label. How to make design for security hologram. How to combine security features on hologram label. DNA-based anti-counterfeiting labels, Hologram seccuerity anti-counterfeit labels and OVD, Anti-counterfeiting tamper technology for packaging sealing and anti-counterfeit labels. Too see samples, please visit VOID Destructive, Honeycomb Destructive, ORIGINAL Destructive, and normal Pressure Destructive Tamper Evident Hologram Sticker